New Skydivers:
Autumn 2018 Groundschool Dates:
5th/7th October
12th/14th October
More on demand!
Autumn 2018 Indoor Skydiving Dates:
17th October
More on demand!
SIGN UP HERE!
Courses:
All our organised groundschools will be taking place at Skydive Hibaldstow in North Lincolnshire over the entire weekend. The Category systems course and membership includes the groundschool, your first two jumps, two nights in the bunkhouse and travel to the dropzone! bargain!
We travel from York to the dropzone together on the Friday evening, before relaxing in the bar and spending the night in the bunkhouse
The groundschool will then take place on Saturday from 8:00am onwards and last a minimum of 6 hours
We then relax on Saturday evening and socialise at the bar before bedding down in the bunkhouse
We get up bright and early on Sunday to complete a 'refresh' to test your memory on the groundschool the day before. You then gear up and get ready to complete your first ever solo jump! (Weather permitting)
We then return together to York on the Sunday evening after an eventful weekend
We currently offer two solo courses: Category Systems (Static Line) or Accelerated Freefall (AFF). Each course differs in price and progression but ultimately end up with the same BPA 'A' Licence and skills learnt.
Category Systems is the most popular course for students as its a cheap pay-as-you-go way of progressing and therefore the most accessible way to becoming a licensed solo skydiver.
AFF is more expensive but is considered easier and faster to complete
Category Systems starts from 4,000ft on a static line whereas AFF starts freefall immediately from 15,000ft
Both require a minimum of 18 successful jumps in order to achieve your BPA 'A' licence
The groundschool consists of approximately 6 hours plus training in the classroom. Your instructor will take you through everything you will need to know, including all of the emergency procedures and a comprehensive guide to all of your equipment. They will take you through the 'routine' that you will be required to do for your first jump, practising in mocked up versions of the aircraft's exit. You will work on perfecting your body position and your landing pattern, and you will be given a complete tour of the airfield.
Depending on which course you choose will make the first jump differ significantly. Please read each of the following course descriptions before deciding which is for you: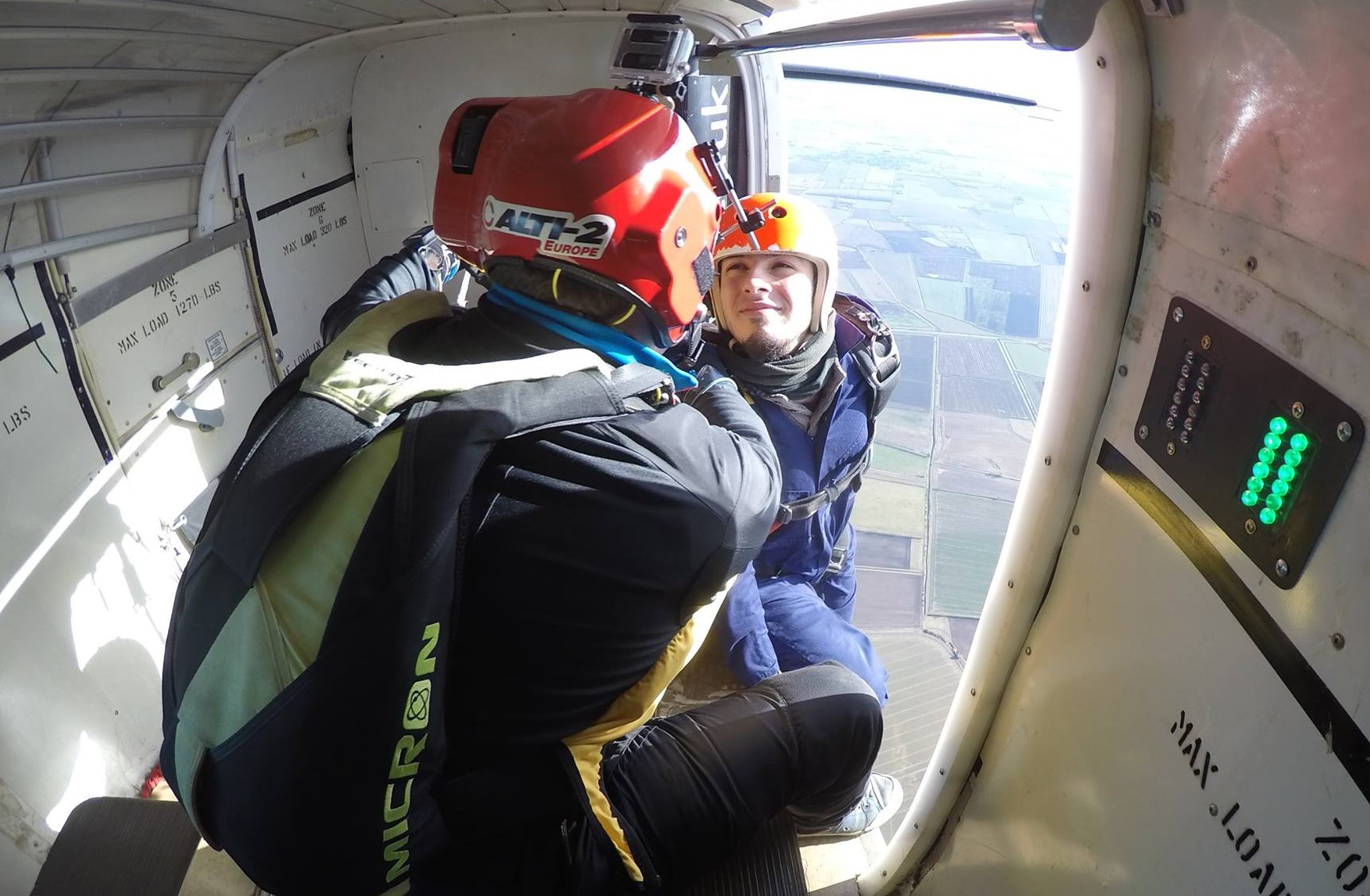 Your first jump will be from 4,000ft and your parachute will be attached to the plane by a long rope (static line) meaning as you leave the plane it will be opened automatically under tension. All you have to do is make a good positive exit from the plane and then fly your canopy safely back down to the landing area. After completing 2 successful exits you can then progress through the course and on to freefall, jumping from higher and higher altitudes until you're diving out the plane from 15,000ft and doing cool stuff like backflips and 360's!
Category 1: Groundschool
Category 2: Static line jump
Category 3: Dummy ripcord pulls
Category 4: First freefall
Category 5: 10s Freefall
Category 6: Terminal Velocity - 15s Freefall with use of Altimeter
Category 7: 360 Degree Turns
Category 8: Unstable exit, dive exit, back loops and tracking
Save £7 per jump!
Category Systems pricing:

| | |
| --- | --- |
| Groundschool, first two jumps and two nights in bunkhouse: | £170 |
| Category Systems jump ticket: | £39 |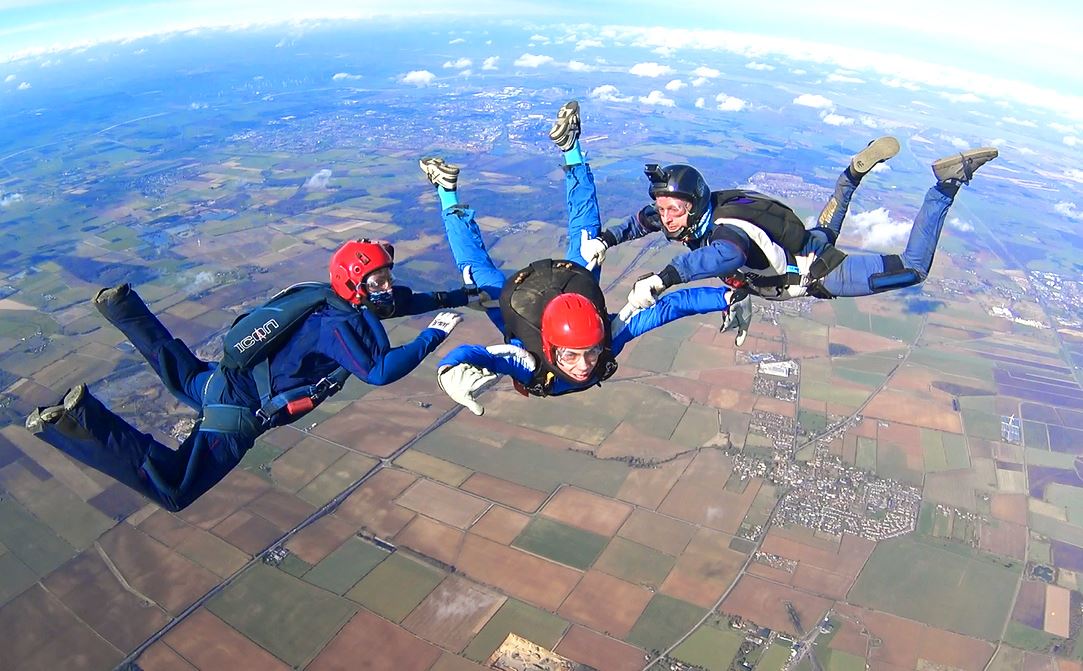 This course is an alternative way to achieve the same solo skydiving A License and can give you the thrill of freefall from your very first jump. You will be taken straight up to the giddy heights of 15,000ft and will exit from the plane solo with 2 instructors holding on to you to guide you in freefall. You will receive in-air feedback to correct your body position and then, at the right altitude, you will then deploy your own parachute.
To complete this course you will need to pass 8 Levels of skydives completing the same skills as the Category Systems course e.g. backflips and turns and then 10 consolidation jumps where you practice your skills.
Level 1: First jump with two instructors
Level 2: Second jump with two instructors
Level 3: The two instructors let go and you maintain a stable position and heading
Level 4: Small turns (drops down to one instructor)
Level 5: 360 turns
Level 6: Unlinked exit, back loops and tracking
Level 7: Complete Unlinked exit, back loop, 360 turns in both directions and tracking
Level 8: Hop 'n' Pop from 5,000ft
Consolidation jumps (x10): Practice all your skills solo
The cost for this course is significantly higher due to the extra skills needed by the instructors and because you are starting at a higher altitude. The total cost for all 8 levels and 10 consolidation jumps is £1650. While you could pass each level of the category systems course first time for less than £1000, the category systems course is considered more difficult early on and some members have swapped to AFF mid-course. If you have the money and you know skydiving is definitely for you, it's definitely worth the extra cash if you want fast progression.
Training weekends for this course will be run on demand so if you like the sound of it then please contact us!
Accelerated Freefall (AFF):

| | |
| --- | --- |
| AFF Level 1 (with groundschool) | £305 |
| AFF Level 2-4 | £510 |
| AFF Level 5-8 | £464 |
| Consolidation jump | £33 |
| AFF Level 1-3 Repeat | £155 |
| AFF Level 4-7 Repeat | £100 |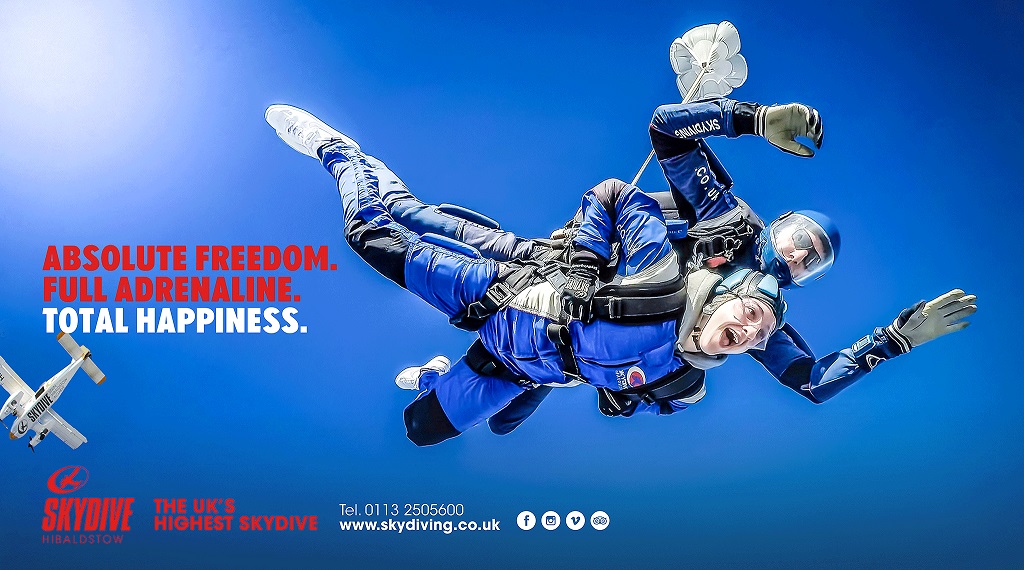 Tandem parachuting allows you to experience the thrill of freefall skydiving without any extensive training and is a great way to venture into the sport or raise some money for charity!
After a short 20 minutes tandem briefing, you will jump harnessed to the front of a fully qualified parachuting instructor from 15,000ft. From this height, you will enjoy one whole adrenaline-fuelled minute of freefall reaching terminal velocity at 120mph for a total of £200!
if you're interested, then please book through Skydive Hibaldstow directly!
Tandem:

| | |
| --- | --- |
| Tandem jump | £200 |
| + Camera | TBC |
| Tandem conversion from Category Systems | £130 |
| Tandem conversion from Accelerated Freefall | £185 |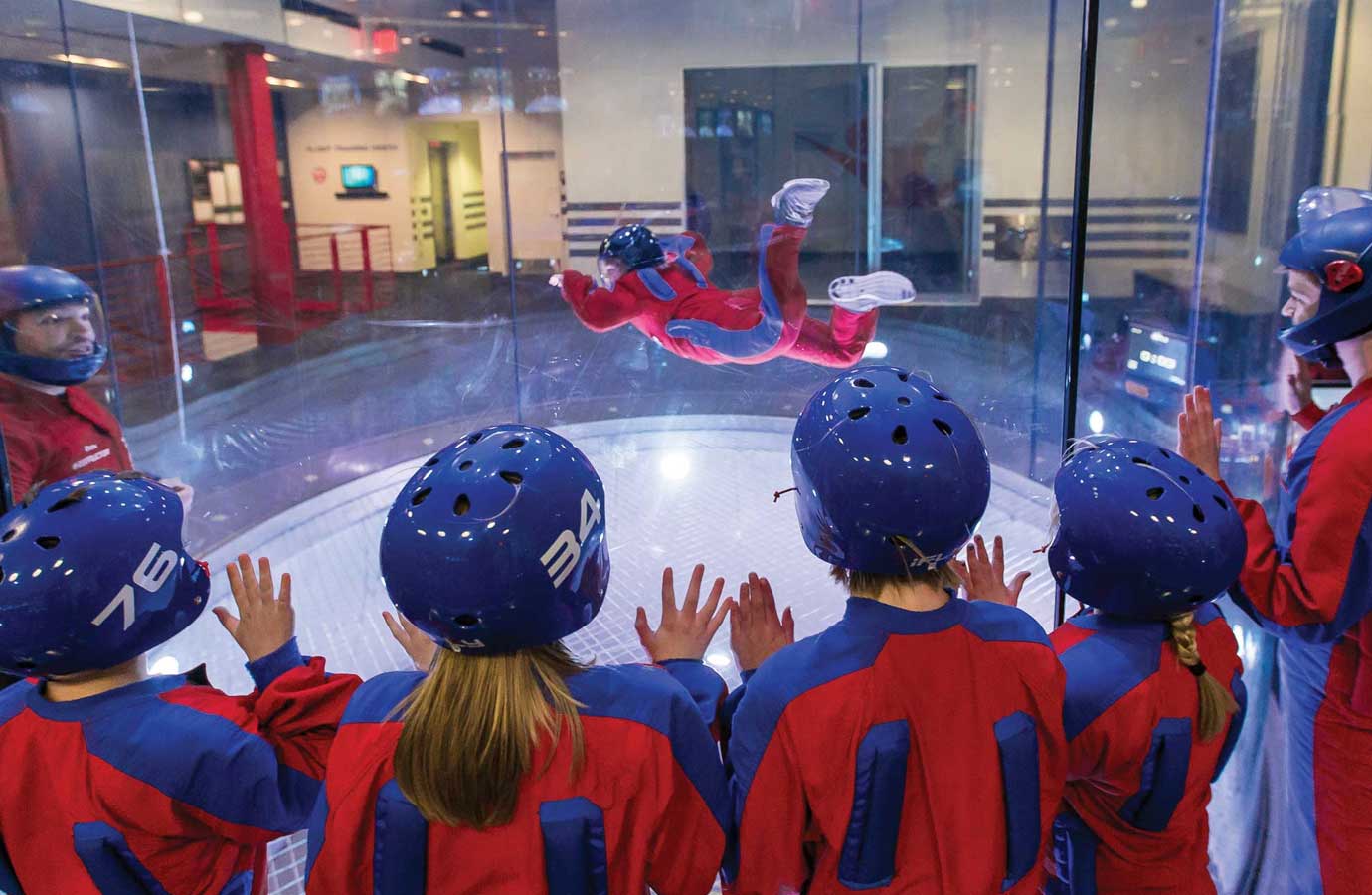 Don't fancy jumping out of a plane? Want a cheaper experience? why not experience the thrill of freefall in the safety of an indoor wind tunnel! We run trips to the tunnel in Manchester throughout the year from as little as £30. If you're interested, then please email us directly!
If you're still unsure which is for you, take a look at this comparison video to get a better idea and read the FAQ:
Post 'A' License:
Formation Skydiving
After completing either the Category Systems or AFF solo courses you will be a fully qualified solo skydiver! This means that you can safely skydive anywhere in the world! However, doing a lot of solo skydives can become a bit boring (believe it or not!) and so most students then progress onto doing the Formation Skydiving Grade 1 course. This is a series of around 10 jumps where you will skydive with a highly qualified coach who will teach you skills on how to move around the sky relative to other people i.e. forwards/backwards, side-to-side and many more. After successfully demonstrating the skills you will complete a 3-way and 4-way skydive and then will be awarded your Formation Skydiving Grade 1. From here the sky is the limit and you can jump with anyone else with this qualification, including most of the committee! This is the ultimate achievement as it means you can skydive with all your friends and then can even enter national competitions!
Experienced members:

| | |
| --- | --- |
| Jump ticket | £18 |
| FS coaching | £40 |
| FS coaching with kit hire | £50 |
| Jump ticket with kit hire | £30 |